Since July 1st, the four major places will not provide disposable plastic straws for "in-house use"
The EPA has decided to limit plastic straws, regardless of take-out, the plastic components are completely banned
According to the statistics of the Environmental Protection Agency, in 2018, a total of 3 billion straws were discarded in Taiwan, which has a huge impact on the environment. In order to reduce the use of single-use plastic straws, the Environmental Protection Agency announced in June 2018, a draft of "restricted use of single-use plastic straws, implementation methods and implementation dates", which once caused the "Bobble Tea Chaos".
After a year of collecting public opinions and evaluating public hearings, Shen Chih-Hsiu, deputy director of the Environmental Protection Agency, said that the targets of control are only government departments, schools, department stores and shopping centers, and fast-food restaurants, totaling more than 8,000 businesses in the four categories. Restricting the use of disposable plastic straws for "in-house use". Shen Chih-Hsiu said that the first violation of the regulations will be persuaded first, and if duinrg the second inspection does not improve, the operator will be fined 1,200 to 6,000 NTD in accordance with the Waste Disposal Law.
As for the management of take-out, Shen Chih-Hsiu said that although there was such an expectation in the original plan, according to administrative procedures, regulations must be announced in advance. In order to allow the regulations to be implemented as scheduled on July 1st, the restrictions on take-out will not be expanded at this time. He emphasized that if consumers buy in the way of take-out, but use it in the store, although there is no penalty, this move will cause trouble for the inspectors, and appeals to the public to reduce the use of straws for both in-house use and take-out.
Shen Chih-Hsiu said that in addition to the swearing by the United Nations Environment Assembly that global single-use plastic products should be greatly reduced in 2030, the EU also plans to ban single-use plastic products such as straws in 2021; he said that plastic reduction is definitely an international trend. Whether it is take-out or tea shop, the policy review will be carried out in the next year, and it can be expected that the object and scope of the relevant regulations will gradually become stricter, and the consumption habits of Chinese people will be gradually improved. He said that at present, some operators have promoted the way of drinking cold drinks directly in the mouth. No straws are provided for in-house use or take-out.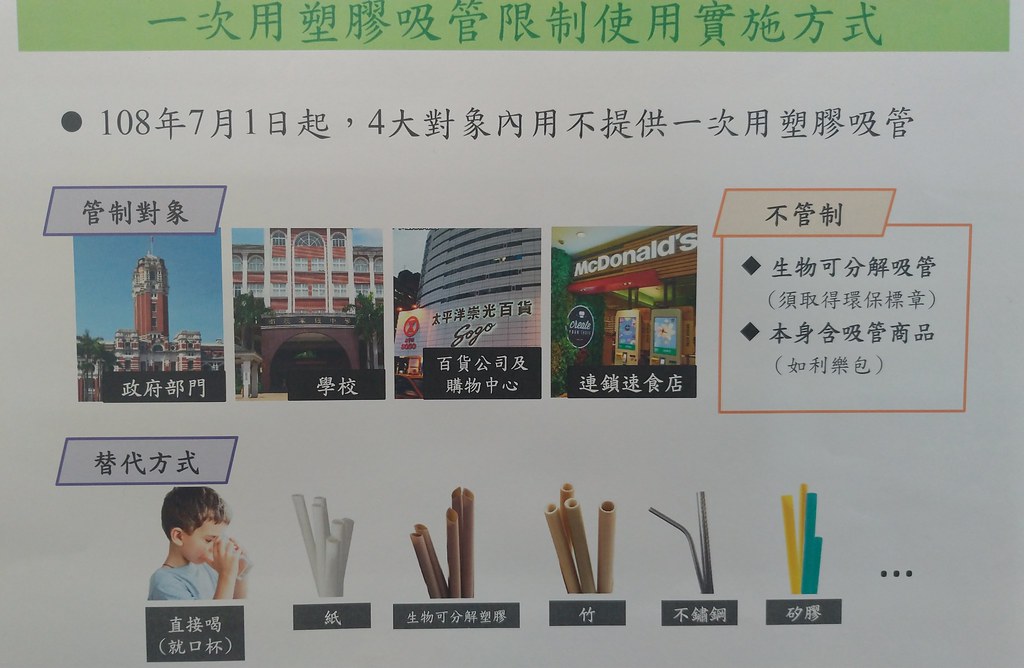 The EPA announced a bill that does not regulate biodegradable straws and products that contain straws themselves. Recap of the EPD briefing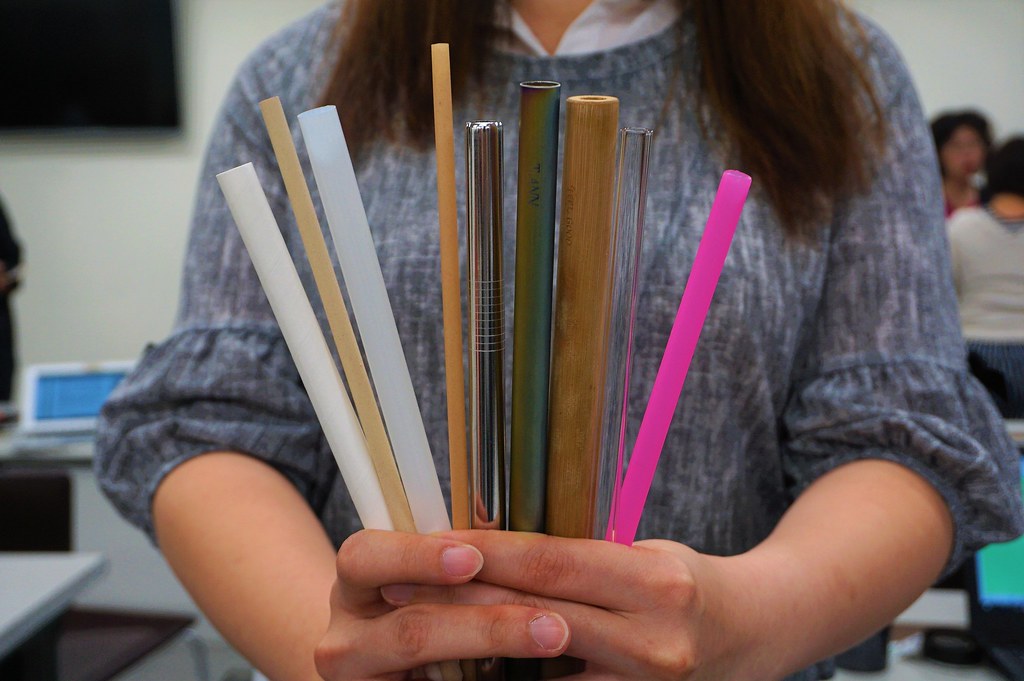 The EPD showcases alternatives to disposable plastic straws. From left to right are straws made of paper, bamboo fiber, PLA, bagasse, stainless steel, titanium, bamboo, glass and silicone. Provided by the EPA
Biodegradable straws are still an alternative but no products are currently certified
In addition, Shen Chih-Hsiu said that the previously announced draft allows the use of coated and laminated plastic film straws with a plastic content of less than 10% by weight, but it will be deleted after evaluation. The official regulations only allow disposable plastic straws made of certain materials such as paper straws, bagasse straws, and biodegradable plastics.
Lai Ying-Ying, director of the Waste Management Division, added that considering the development of current technology, plastic-free straws are enough to provide sufficient alternative products, so plastic-coated and fitted straws are excluded.
Lai Ying-Ying emphasized that biodegradable plastic straws need to be certified by the environmental protection label, and only carbon dioxide and water will be left after the fertilizer is decomposed in a certain environment; however, at present, no one company has obtained the environmental protection label license, and many companies are applying. In the future, if a product passes the certification, it will be announced on the green life information website for the public to check.
According to the current recycling system in Taiwan, no matter what the material it is, most straws are still sent to the incinerator as general waste, but Lai Ying-Ying pointed out that the pollution caused by the incineration of biodegradable plastics is lower than that of ordinary plastics. Technology is changing with each passing day. If there are better alternative materials in the future, we will continue to evaluate better management methods, so that consumers and industries can cooperate.
The first phase of plastic restriction regulations will be on the road as scheduled on July 1st. It is estimated that the use of plastic straws will be reduced by 100 million per year.
Shen Chih-Hsiu said that the Environmental Protection Agency conducted a telephone and online poll in April, and 70% of the respondents said they knew about the regulation, and 80% of the respondents supported the promotion of the policy. After the draft was announced in June last year, most people responded as soon as possible, which is believed that this standard will be implemented as scheduled on July 1st. The Environmental Protection Agency, from the standpoint of guiding the public, hopes that the first promotion will go smoothly. In the future, adjustments and improvements will be made taking into account the actual situation of the first stage.
The EPA also displayed alternative products such as disposable paper straws, bagasse straws, and reusable glass straws, titanium straws, stainless steel straws, silicone straws and so on that are currently available on the market. Lai Ying-Ying said that this regulation is expected to reduce the use of 100 million plastic straws a year. The official announcement of the bill will be made as soon as next week, and it will be implemented as scheduled on July 1st.
Article source: Environmental Information Center https://e-info.org.tw/node/217735
---
An alternative to single-use plastic straws: silicone straws
What is silicone (the material of the pacifier is silicone)
The raw materials of silicone are mainly from natural ores. Food grade silicone that was extracted with high-purity is plasticizer and bisphenol A free, non-toxic, odorless with high and low temperature resistance, which is 100% safe to use and eco-friendly. Silicone consists mainly of silica, which is an amorphous product made of sodium silicate and sulfuric acid in silica. It is made into granular or beaded form after washing and processing minerals that exist in the nature. Due to its great chemical stability with high safety, non-toxic, and non-corrosive, silicone has been approved by the US FDA for use in the food and pharmaceutical industries. Food grade silicone is widely used in baby's pacifiers. Because of the chemical inertness of edible silicone, which remains stable in any liquid and temperature. Repeated use reduces plastic waste and does not compromise the quality of life!
Do not misunderstand silicone ≠ plastic
Silicone products became popular about more than a decade ago, but are often mistaken as plastic products. Silicone products were created to replace polluting plastics and rubbers. The biggest difference between the former and the latter two is that plastic and rubber products will release toxic substances when heated. The toxic components of silicone rubber have been completely released and extracted during the production process, and they can withstand high temperatures of 230ºC. Plastics and rubbers have a limited lifespan and will become hard and brittle after a period of use. Silicone is safe and durable, and can significantly reduce resource consumption.
Comparison of straws of various materials
Silicone straws: reusable, soft and safe, light weight, transparent so it's easy to tell if it's dirty and needs to clean.