Medical grade silicone has excellent physiological inertness, non-toxic, odorless, non-corrosive, non-irritating, and has good physiological compatibility. It can withstand repeated disinfection with high temperature and pressure. It can easily be formed and processed into pipes, sheets, membranes, and various shapes of products for medical purposes, which are widely used in medical care and our daily life.
Usage
Food contact, for example: beverage conveyer pipe, including drinking water; caps of baby bottles; miscellaneous items; parts, calendering sheet, calendering belt and conveying belt.

Pharmacological use, for example: circulating tubes for liquid and soluble drugs; medical conveyer belts, etc.

Medical use, for example: short-term human body contacting products, such as various drainage tubes, foley catheters, dialysis tubes, intubation tubes, etc.; medical devices, such as artificial heart-lung machine tubes, controlled drug release machine tubes, etc.; extracorporeal circulation tubes; oxygen delivery tubes; syringe seals; breathing masks.

Implantations, for example: long-term implantation products, such as artificial heart valves, artificial meninges, artificial breasts, artificial joints, external ventricular drain, and various plastic implants.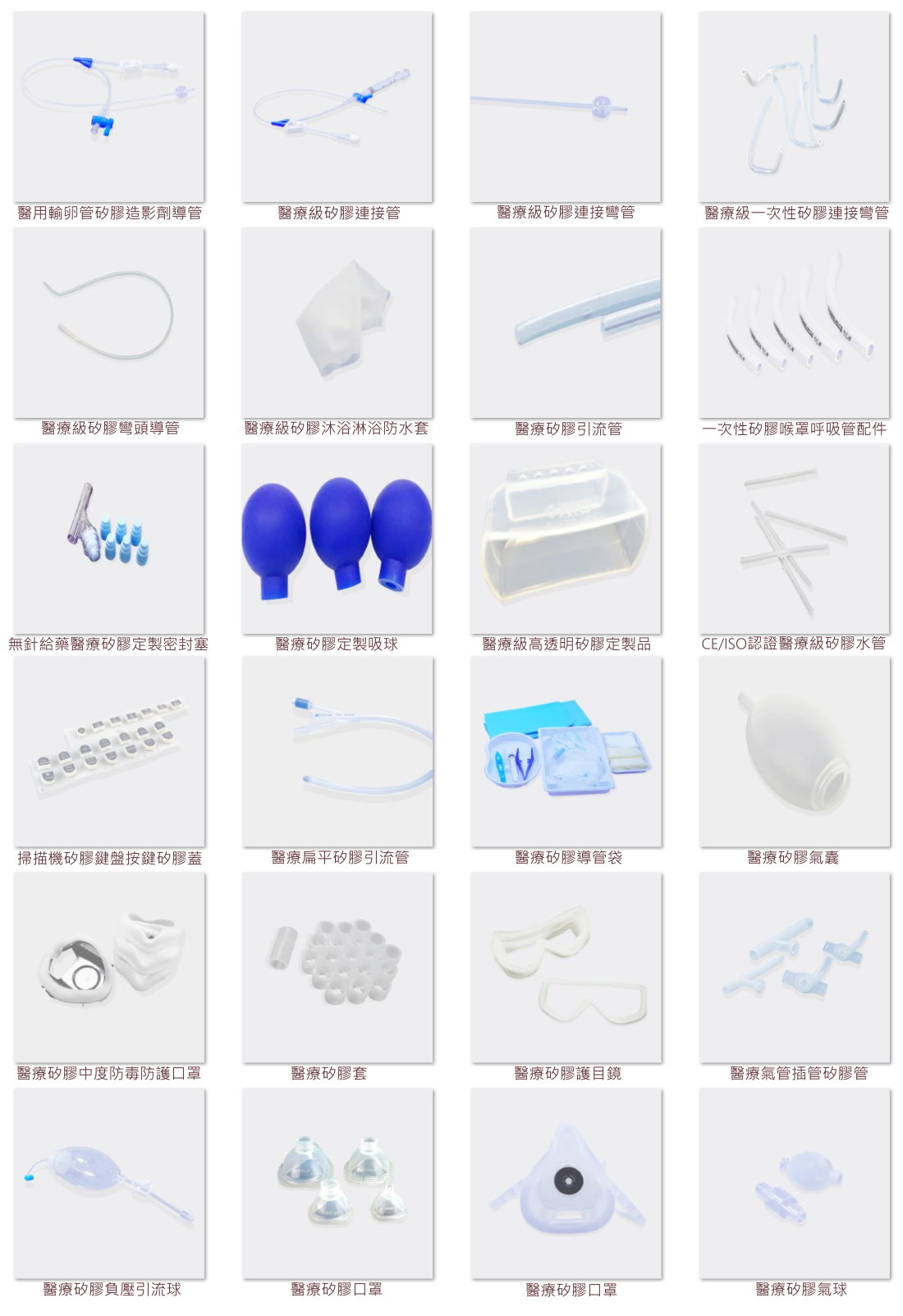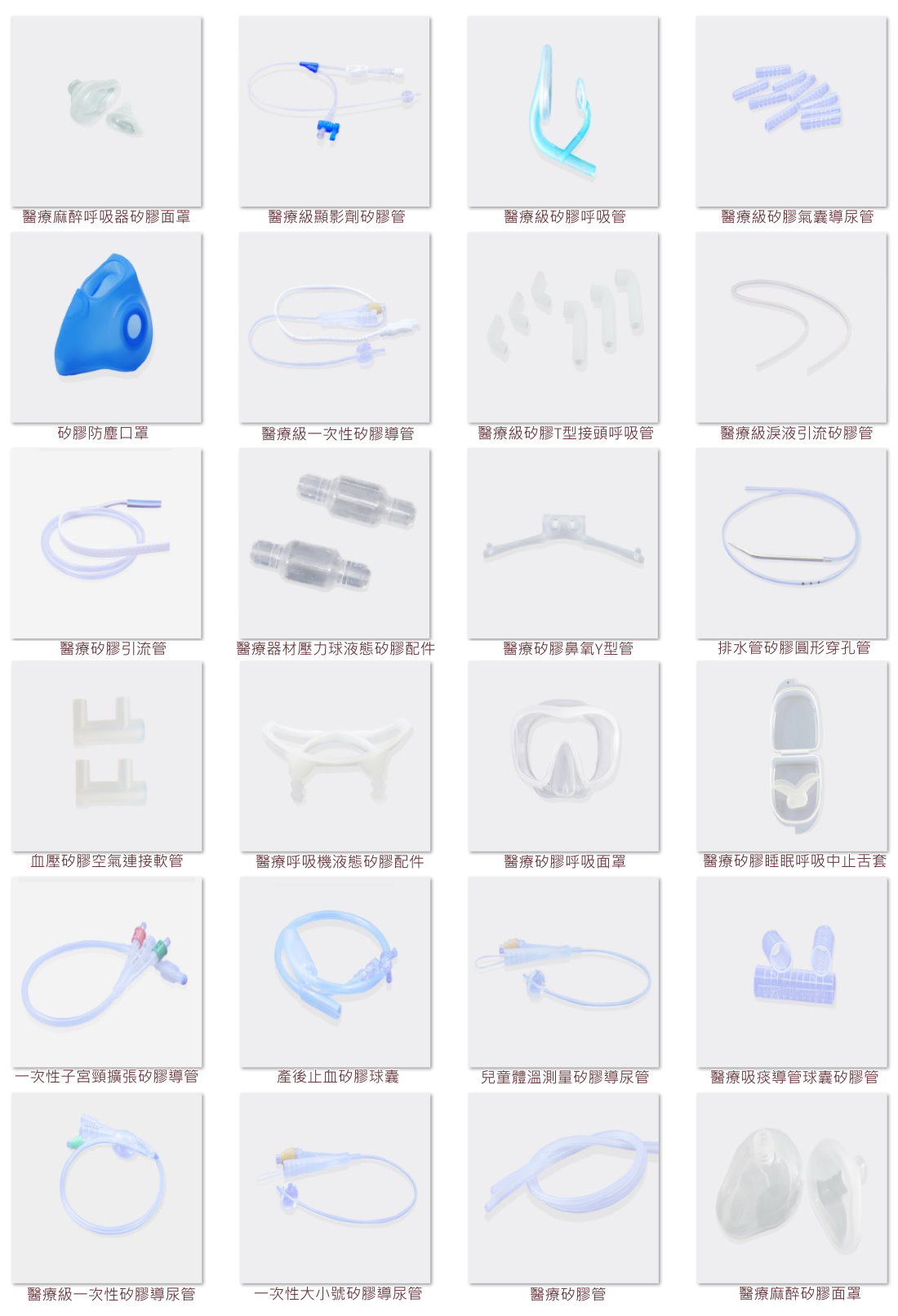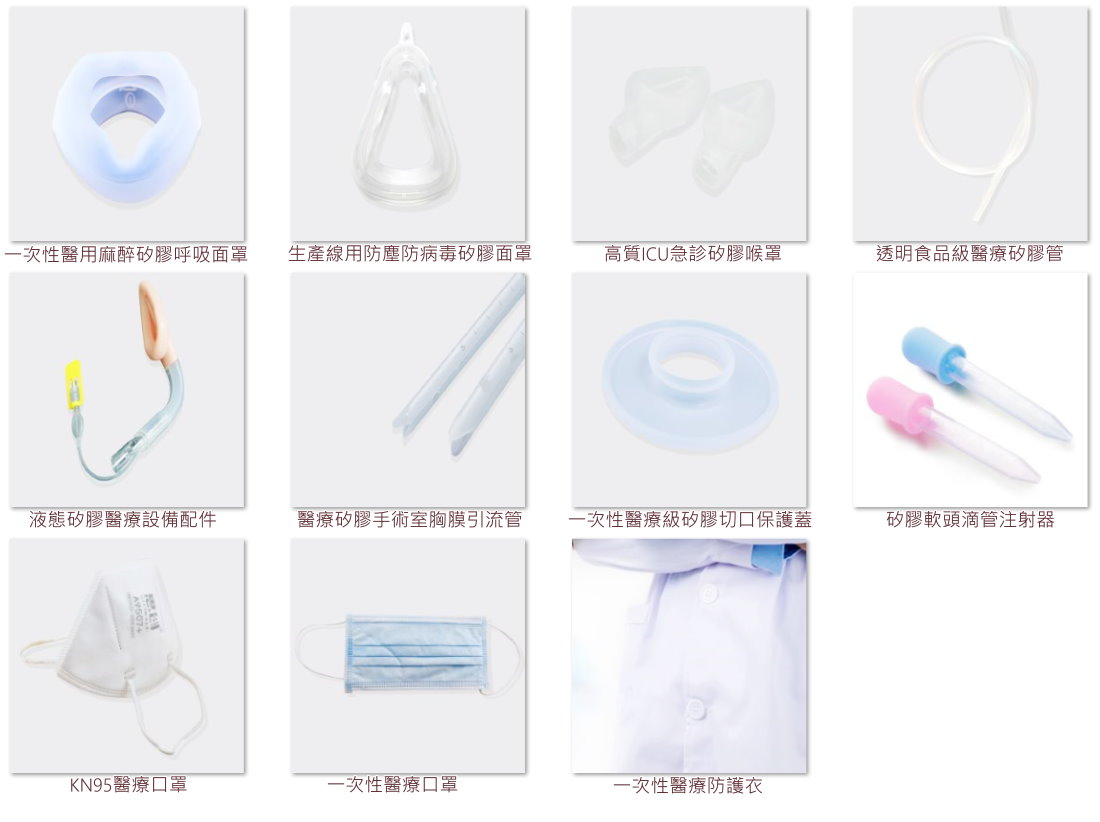 Medical silicone HSF catheter
Medical grade silicone connecting tube
Medical grade silicone connecting elbow
Medical grade disposable silicone connecting elbow
Medical grade silicone elbow catheter
Medical grade silicone waterproof showering cover
Medical silicone drainage tube
Disposable silicone laryngeal mask airway accessories
Medical silicone needle-free injection customized sealing plugs
Medical silicone customized piped bulb
Customized medical grade high transparent silicone products
CE/ISO certified medical grade silicone hose
Silicone scanner keyboard button/cover
Medical silicone flat drainage tube
Medical silicone catheter bag
Medical silicone airbag
Medical silicone moderate antivirus mask
Medical silicone cover
Medical silicone goggles
Medical silicone endotracheal intubation tube
Medical silicone negative pressure drainage ball
Medical silicone mask
Medical silicone air bulb
Medical Silicone Balloon
—-
Medical silicone anesthesia respirator mask
Medical grade silicone contrast medium injection tube
Medical grade silicone breathing tube
Medical grade silicone balloon foley catheter
Silicone dustproof mask
Medical grade silicone disposable catheter
Medical grade silicone T-joint breathing tube
Medical grade silicone lacrimal drainage system tube
Medical silicone drainage tube
Medical equipment pressure ball liquid silicone accessories
Medical silicone nasal oxygen Y-tube
Drain silicone round perforated pipe
Sphygmomanometer silicone air connecting hose
Medical ventilator liquid silicone accessories
Medical silicone respiratory mask
Medical silicone sleep apnea tongue stabilizing device
Disposable foley bulb
Silicone postpartum balloon
Pediatric silicone temperature-sensing foley catheter
Medical silicone tracheobronchial suction catheter
Medical grade silicone disposable catheter
Medical grade silicone disposable catheter
Medical silicone tube
Medical silicone anesthesia mask
Disposable medical silicone anesthesia respirator mask
Dust-proof and anti-virus silicone mask for production line
High quality ICU silicone laryngeal mask
Food grade medical transparent silicone tube
Liquid silicone medical device accessories
Medical silicone surgery chest tube
Disposable medical grade silicone incision protector
Silicone soft-tip syringe dropper
KN95 medical mask
Disposable medical mask
Disposable medical protective clothing