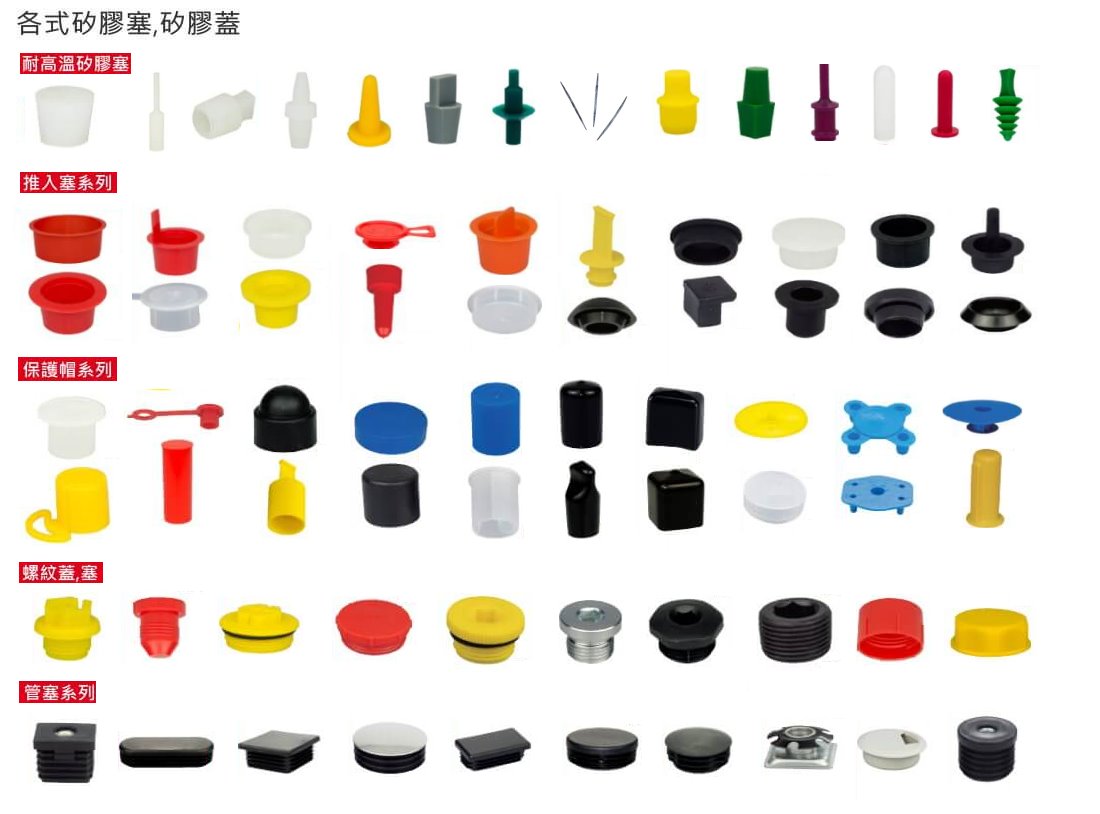 Silicone plugs are flame-resistant, heat-resistant, moisture-resistant, water-resistant and have good electrical insulation.
Introduction of silicone plugs
One of the reasons choosing silicone products might be having specific requirements for high temperature resistance, for example, commonly used silicone plugs would sometimes need to be used in different environments with high and low temperature resistance.
Different silicone plugs aimed at specific industries can be roughly divided into several types, and can also be limited to the temperature resistance conditions of the silicone itself.
For example, silicone through hole plus for though holes, silicone stopper plugs, and countersunk threaded type high-temperature resistant plugs, are three different types of plugs used in different fields, which lead to different temperature resistance effects as the selection of product materials and thicknesses varied depending on the fields they are used in. Comparing to the other two, the selection of through hole plugs is relatively standardized, which has good high temperature resistance. If considered to increase the effect of high temperature resistance, it is encouraged to use the gas chromatography technique to increase the density of the raw materials. As to the reasons of the relatively lower high temperature effect of stopper and threaded type plugs are due to the differences in shape and structures, which caused the faster sensation when contacting to high temperatures. Literally, through hole plugs products are hollow with simple structures that have think wall thicknesses without any internal complexity; while the stopper and threaded type plugs have uneven and complex product structures, which bring higher apparent temperature that supports the heat transfer. Although conventional test of the high and low temperature resistance of silicone products is still -40°C to 230°C, with the structure of silicone products and the characteristics of raw materials, this limitation may be overfulfill and achieve better temperature resistance. As for the temperature resistance performance of silicone plugs, normal high temperature resistance can still overfulfill the usage limits!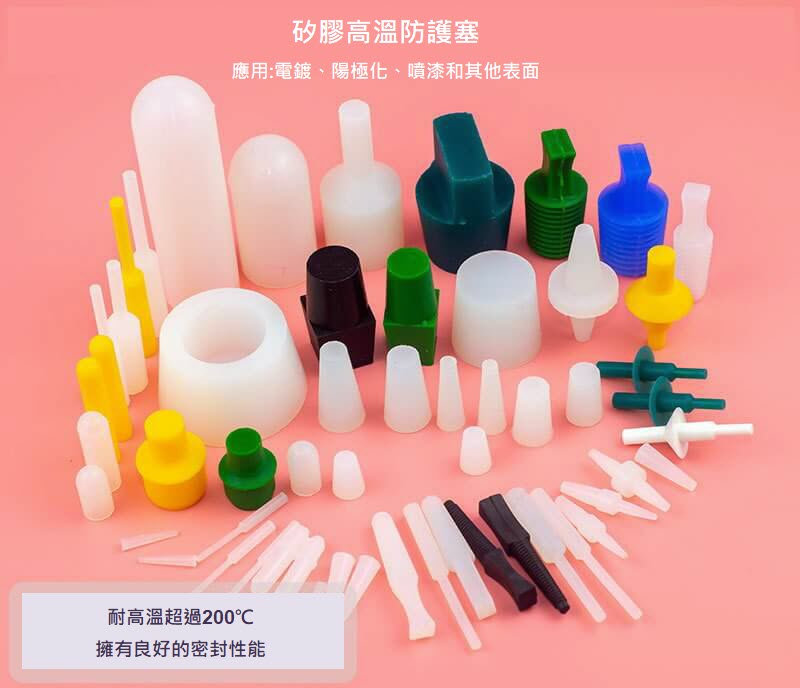 Method of cleaning for silicone plugs:
Clean water: silicone plugs can be rinsed with water. If the plugs are left on greasy dirt, apply soap and then rinse the silicone plugs with water. Silicone plugs can be dried directly using the air heater. Do not expose to the sun. Although silicone is a strong anti-corrosion material, it turns yellow with prolonged exposure to the sun. Note: Do not frequently wash the plugs, otherwise they will turn yellow.

Alcohol cleaning: before cleaning silicone plugs, use alcohol cotton to clean it. Note that the cotton swab should be made of wood or bamboo, not plastic. Use soft cotton clothes with alcohol to gently wipe through the silicone plugs.

Use an eraser: the dirt on silicone plugs can be cleaned up using erasers. With minor dirt on the silicone plug, try wiping it with an eraser several times, and then rinse it with water, which brings good cleaning result. If the erasers couldn't solve the yellowing problem on the plugs, try using toothpaste, which is also a very effective cleaning tool.
| Silicone plugs | Push-in plugs | Protective caps |
| --- | --- | --- |
| S1421NE01-Heat-resistant tapered plug | S1421NP04-Red cap plug | S1421NP14-Straight edge cap |
| S1421NE02-Heat-resistant pull plug | S1421NP05-Red wide-edged cap plug | S1421NP15A-Easy-fit/flip cap with ring pull |
| S1421NE03-Heat-resistant flangeless threaded plug | S1421NP06A-Drum plug | S1421NP15B-Grease nipples with retaining tap |
| S1421NE04-Heat-resistant washer plug | S1421NP06B-Parallel protection plug | S1421NP15C-Long bolt protection cap |
| S1421NE05-Heat-resistant conical plug | S1421NP07A-Push-in plug with lateral pull tab | S1421NP16A-Bolt and nut protection cap |
| S1421NE06-Heat-resistant flangeless pull tapered plug | S1421NP07B-Yellow wide-edged tapered cap plug | S1421NP16B-Yellow pull-tab cap |
| S1421NE07-Heat-resistant gasket pull plug | S1421NP08A-Black rubber cap plug | S1421NP16C-Blue pipe and tube protection cap |
| S1421NE08-Rat tail plug | S1421NP08B-Centered pull-tab plug | S1421NP17A-Black pipe and tube plastic cap |
| S1421NE09-Heat-resistant flangeless corrugated plug | S1421NP09A-Transparent tapered plug | S1421NP17B-End protection cap |
| S1421NE10-Hollow threaded handle plug | S1421NP09B-Lateral pull-tab plug | S1421NP17C-Inner fin bolt cap |
| S1421NE11-Double headed plug | S1421NP09C-Small side pull-tab plug | S1421NP18A-Long round flexible soft cap |
| S1421NE12-Double gasket threaded plug | S1421NP10A-Parallel rubber plug | S1421NP18B-Flexible soft cap with pull handle |
| S1421NE13-Heat-resistant protection cover | S1421NP10B-Red threaded push-in plug | S1421NP19A-Rectangular flexible soft cap |
| S1421NE14-Gasket protection cover | S1421NP10C-Solid plug | S1421NP19B-Square flexible soft cap |
| | S1421NP10D-Yellow pull-tab plug | S1421NP20A-Wide flange cover |
| | S1421NP11A-Rubber handle plug | S1421NP20B-Raised face flange protectors with mounting tab |
| | S1421NP11B-Silicone water stopping plug | S1421NP20C-SAE hexagonal flange protection |
| | S1421NP12A-Groove-headed plug | S1421NP21A-Small flange protective cover |
| | S1421NP13A-RJ interface plug | S1421NP21B-Blue flange cover |
| | S1421NP13B-Round cover plug | S1421NP21C-Driveshaft protection cap |
| | | |
| Screw cap plug | Pipe plug | |
| S1421NP22-Slotted thread sealing plug | S1421NP35A-Oval tube plug | |
| S1421NP23A-Threaded fitting plug | S1421NP35B-Square tube plug | |
| S1421NP23B-Threaded internal caps with hexagonal head and assembled O-ring | S1421NP36A-Chromium surface round tube plug | |
| S1421NP24A-Round-headed thread plug | S1421NP36B-Rectangular tube plug | |
| S1421NP24B-Yellow hexagonal screw threaded plug | S1421NP37A-Round tube plug | |
| S1421NP25A-Metal threaded plug | S1421NP37B-Light round tube plug | |
| S1421NP25B-Inner hexagonal threaded plug | S1421NP38A-Shrapnel threaded pipe connector | |
| S1421NP26A-Taper pipe threaded plug | S1421NP38B-Desk cable hole plug | |
| S1421NP26B-Red threaded cap | S1421NP39A-Plastic thread round pipe plug | |
| S1421NP27-Threaded sealing cap with gasket | S1421NP39B-Plastic thread square pipe plug | |
Silicone is a polymer between organic and inorganic. It consists mainly of silica, which is chemically stable and non-flammable. Silicone has high thermal stability that can withstand extreme temperatures from -40 ºC to 230 ºC with a heat resistance up to 260 ºC.
Silicone is a highly activated adsorption material, which is an amorphous substance that can vary in consistency from liquid to gel to grease or to elastomer. It is insoluble in water or any solvent that is non-toxic, odorless and chemically stable. Silicone does not react with any substances except strong base and hydrofluoric acid, which demonstrates the irreplaceable benefits comparing to other similar materials: high adsorption performance, good thermal stability, stable chemical properties, and high mechanical strength, etc. Products made of silicone can be seen in daily necessities, kitchenware, sporting goods, baby products, beauty and health care products, and so on, in our daily life, and Dafeng integrity provides you with the best silicone customization options.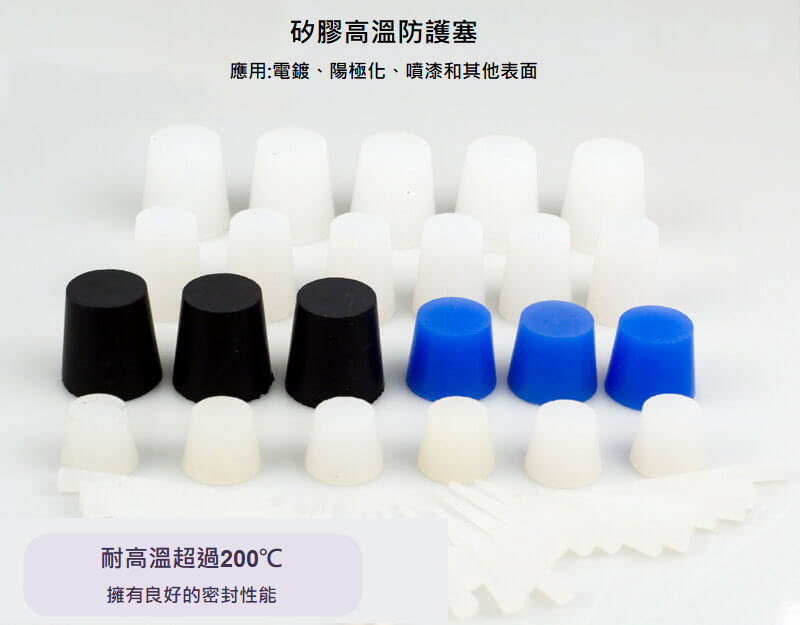 Model

Dimensions (mm)

Thread

Type

d1

d2

H

Metric thread

American thread

Imperial thread

SCP01-1.6-0.4-15.9

1.6

0.4

15.9

–

–

–

Solid

SCP02-2-0.5-19.1

2

0.5

19.1

M2

–

–

Solid

SCP03-2-0.5-25.4

2

0.5

25.4

 

 

 

Solid

SCP04-3.2-0.8-15.9

3.2

0.8

15.9

M2

–

–

Solid

SCP05-3.2-1.6-15.9

3.2

1.6

15.9

M3

–

–

Solid

SCP06-4.8-1.6-15.9

4.8

1.6

15.9

M3, M4

–

–

Solid

SCP07-4.8-1.6-19.1

4.8

1.6

19.1

M3, M4

–

–

Solid

SCP08-5.5-1.2-38.1

5.5

1.2

38.1

M3, M4, M5

–

–

Solid

SCP09-6.4-3.2-19.1

6.4

3.2

19.1

M5, M6

1/4〃

–

Solid

SCP10-6.4-3.2-25.4

6.4

3.2

25.4

M5, M6

1/4〃

–

Solid

SCP11-7-4-20

7

4

20

–

–

–

Solid

SCP12-7-3-25

7

3

25

–

–

–

Solid

SCP13-7.1-1.7-38

7.1

1.7

38

–

–

–

Solid

SCP14-8.7-4.8-15.9

8.7

4.8

15.9

M7, M8

5/8〃

1/16〃

Solid

SCP15-8.7-4.8-25.4

8.7

4.8

25.4

M7, M8

5/8〃

1/16〃

Solid

SCP16-9.2-6.2-12.8

9.2

6.2

12.8

M8

5?8〃

1/8〃

Solid

SCP17-9.2-3.2-31.8

9.2

3.2

31.8

–

–

–

Solid

SCP18-9.5-6.5-18.5

9.5

6.5

18.5

M8

5/8〃

1/8〃

Solid

SCP19-9.5-6.4-12.7

9.5

6.4

12.7

M10

3/8〃

1/8〃

Solid

SCP20-9.5-6.4-19.1

9.5

6.4

19.1

M10

3/8〃

1/8〃

Solid

SCP21-10-6-20

10

6

20

–

–

–

Solid

SCP22-10.5-6.5-25.4

10.5

6.5

25.4

–

–

–

Solid

SCP23-11-8.5-17.5

11

8.5

17.5

M10

3/8〃

–

Solid

SCP24-11.1-8.7-17.5

11.1

8.7

17.5

M12

7/16〃

–

Solid

SCP25-11.1-6.4-25.4

11.1

6.4

25.4

M10, M12

3/8〃

1/8〃

Solid

SCP26-11.5-6.5-25

11.5

6.5

25

M10

3/8〃

1/8〃

Solid

SCP27-12-9-18

12

9

18

M10

7/16〃

–

Solid

SCP28-12.7-3.2-50.8

12.7

3.2

50.8

M10

7/16〃

–

Solid

SCP29-13-9-25

13

9

25

–

–

–

Solid

SCP30-14-7-27.9

14

7

27.9

–

–

–

Solid

SCP31-14.3-7.9-28.6

14.3

7.9

28.6

M10,M12,M14

7/16〃 ,1/2〃 ,9/16〃

1/4〃

Solid

SCP32-14.3-9-25.4

14.3

9

25.4

M10, M12, M14

7/16〃 ,1/2〃 ,9/16〃

1/4〃

Solid

SCP33-15.1-10.3-25.4

15.1

10.3

25.4

M14, M16

1/2〃 ,9/16〃

–

Solid

SCP34-15.9-11.1-22.2

15.9

11.1

22.2

M14, M16

9/16〃 ,5/8〃

3/8〃

Solid

SCP35-16.7-12.7-25.4

16.7

12.7

25.4

M16

5/8〃

3/8〃

Solid

SCP36-17-13-25

17

13

25

–

–

–

Solid

SCP37-17.5-11.1-25.4

17.5

11.1

25.4

M14, M16, M18

5/8〃

3/8〃

Solid

SCP38-18-14-20

18

14

20

–

–

–

Solid

SCP39-19.1-14.3-25.4

19.1

14.3

25.4

M18, M20

3/4〃

–

Solid

SCP40-19.1-14.3-14.3

19.1

14.3

14.3

M18, M20

3/4〃

–

Solid

SCP41-19.8-15.9-25.4

19.8

15.9

25.4

M20

3/4〃

1/2〃

Solid

SCP42-20-15.5-16

20

15.5

16

M20

3/4〃

1/2〃

Solid

SCP43-20.6-15.9-25

20.6

15.9

25

–

–

–

Solid

SCP44-22-16-25.4

22

16

25.4

–

–

–

Solid

SCP45-23.5-19-19.5

23.5

19

19.5

M22

7/8〃

–

Solid

SCP46-23.5-19.1-25.4

23.5

19.1

25.4

–

–

–

Solid

SCP47-23.5-20-10

23.5

20

10

–

–

–

Solid

SCP48-23.8-18.3-25.4

23.8

18.3

25.4

M22

7/8〃

–

Solid

SCP49-25.4-19.8-25.4

25.4

19.8

25.4

M22, M24

1〃

3/4〃

Solid

SCP50-26-20-25

26

20

25

–

–

–

Solid

SCP51-27-23-25.4

27

23

25.4

M27

–

–

Solid

SCP52-27.9-23.8-25.4

27.9

23.8

25.4

M30

11/8〃

–

Solid

SCP53-31-25-30-Z

31

25

30

–

–

–

Hollow

SCP54-31.8-26.2-25.4

31.8

26.2

25.4

M33

11/4〃

–

Solid

SCP55-33.4-27-25.4

33.4

27

25.4

M33

11/4〃 ,13/8〃

1〃

Solid

SCP56-34-27-25.4

34

27

25.4

–

–

–

Solid

SCP57-36.5-30.2-25.4

36.5

30.2

25.4

M36

13/8〃

–

Solid

SCP58-37-30-25.4

37

30

25.4

–

–

–

Solid

SCP59-38.9-31.8-25.4

38.9

31.8

25.4

M39

11/2〃

–

Solid

SCP60-39-31-25-Z

39

31

25

–

11/2〃

–

Hollow

SCP61-41.3-33.3-25.4

41.3

33.3

25.4

M39, M42

11/2〃

11/4〃

Solid

SCP62-42.9-35.7-25.4

42.9

35.7

25.4

M42

–

11/4〃

Solid

SCP63-43-36-25-Z

43

36

25

M42, M45

–

13/8〃

Hollow

SCP64-44.5-37.3-25.4

44.5

37.3

25.4

M48

–

–

Solid

SCP65-46-38-25-Z

46

38

25

–

–

–

Hollow

SCP66-46-38.1-25.4

46

38.1

25.4

M48

–

11/2〃

Solid

SCP67-50-41.3-25.4

50

41.3

25.4

–

–

11/2〃

Solid

SCP68-52.4-44.5-25.4

52.4

44.5

25.4

M56

–

–

Solid

SCP69-53-45-25-Z

53

45

25

–

–

–

Hollow

SCP70-56-47.6-25.4

56

47.6

25.4

M56

–

–

Solid

SCP71-62.7-50-25.4

62.7

50

25.4

M64

–

2〃

Solid

SCP72-63-50-25-Z

63

50

25

M60, M62

–

–

Hollow

SCP73-63.5-54-25.4

63.5

54

25.4

M64

–

2〃

Solid

SCP74-68.3-57.9-25.4

68.3

57.9

25.4

–

–

–

Solid

SCP75-75-61.9-34.9

75

61.9

34.9

–

–

2 1/2

Solid

SCP76-88.9-76.2-38.1

88.9

76.2

38.1

–

–

3〃

Solid

SCP77-101.6-82.6-38.1

101.6

82.6

38.1

–

–

–

Solid

SCP78-127-88.9-50.8

127

88.9

50.8

–

–

4〃

Solid